Music News
Dr. Vusi Mahlasela Releases New Album 'Umoya'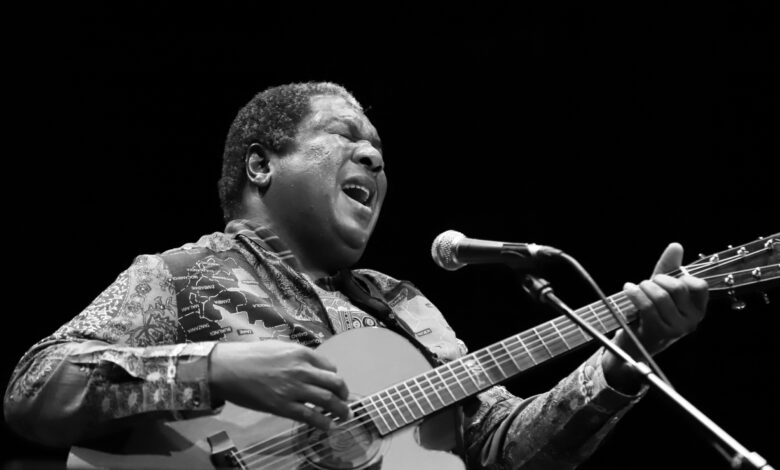 Recorded at Flame Studios and helmed by two-time Grammy-nominated producer Joe Arthur, the 10 track album is the ideal companion soundtrack to South Africa's Heritage Month. Addressing some crucial personal and social issues, the body of work cocoons deeply introspective and spiritual explorations within its rootsy soundbeds.
Vusi Mahlasela is a singer-songwriter, guitarist, percussionist, composer, and arranger with a distinct, powerful voice and poetic, optimistic lyrics.
Vusi Mahlasela's music has never been in doubt – its timeless quality. His voice and songs (specifically the popular song 'Tonkana' off his debut album 'When You Come Back') was used in the epic Volkswagen 'People's Cars' television commercial, and his music was also used in TV commercials for Bokomo and People's Bank. Vusi also features strongly in the 'Amandla!' documentary movie that highlights the role that song and music played in the anti-apartheid struggle and won two awards at the prestigious Sundance Film Festival in the US.
'Afrika the sun has risen' is a proud empowering song by Vusi Mahlasela, featured in his forthcoming album 'Umoya'The song holds great significance as it embodies the essence of the Native Intelligence de Coloniality Project Centre™ and its mission. This project aims to challenge and dismantle colonial frameworks by promoting indigenous knowledge and fostering dialogue. Vusi Mahlasela has actively promoted social change and uplifting African voices through his music. The Voice is about Storytelling.
"Son of the song, you who are chosen to deliver the healing message through music, teach the understanding of the power of the soul that aligns us to destiny and begin to heal collective illnesses and balance the harmony of the new beginnings. I know every sickness needs healing. Everyone who cries needs comforting. Every troubled soul needs redemption, as captives need freedom. As every answer starts with a question, every problem needs a solution. Justice must be balanced on every scale — moral leadership, integrity, and fairness matter. No one should suffer fools and cruel minds. Let those who lie and endanger the lives of the innocent by weaponizing deadly ideologies be exposed and suffer the consequences. Thank you to Gogo Kaya Asima for the inspiration. Long live the spirit of the rising sun! Long live UMOYA!" – Dr. Vusi Mahlasela
The album release will be accompanied by PODCAST, an in-depth album analysis. The album is available on all streaming platforms with "Afrika the sun has risen" as the lead single.
Stream 'Umoya' Here