Music News
Shasha Touches On her Upbringing In Zim, Family, Struggles & Coming To SA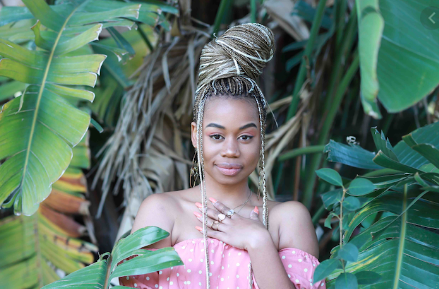 Shasha Touches On her Upbringing In Zim, Family, Struggles & Coming To SA – Sha Sha, the voice behind some of the most popular Amapiano songs.
She's new to the scene and you might have heard her vocals on your radio on hit singles like Mlindo the Vocalist's Nge Thanda Wena, Scorpion Kings's We'Mama, MFR Souls's Love You Tonight and Samthing Soweto's Akulaleki.
"I was born in Zimbabwe in Bulawayo, then I stayed in Mutare, most of my years Mutare"
She is originally from Zimbabwe and was born in a small town called Mutare. It's a very beautiful, lush green and mountainous area. She lived there most of my life but she moved around and lived in various places around southern Africa. 
She moved around a lot as a child because her parents separated after she was born. She stayed with my grandmother at one point, and with her aunts at another.
Although she knew she could sing, she didn't take it seriously until her friends took my music to one of Zimbabwe's biggest radio stations. It was well-received and this made her happy. She then met renowned producer Audius Mtawarira who became her mentor who helped her improve her craft.
"So, when I started in Harare, it was still actually a hobby, I was still applying for nursing. So, that wasn't really working, we were basically just dropping CV's every hospital."
She was conflicted between music and academic, nursing and music, her parents forewarned her to choose between school and her music career.
"If you go and do this music thing, you not to be part family, you figure out this life yourself" – said her parents
"You know what I am very bold, thats one of my qualities" – Sha Sha
"I started off as a receptionist to a waiter"
She highlights she had doubting moments when things were not going according to plan, although, she stood firm by her decision.
She went to live with her aunt after the parents kicked her out of the house. She did menial jobs such as waitressing and being a receptionist before meeting Blind Faith Group that helped her with her career for three years.
It was not easy when she started off with her musical career but after she joined the group and found a mentor, slowly but surely she started getting her name out there through the artist's development. She thrived for three years and began getting gigs around Zimbabwe.
"HIFA is one of the biggest events in Harare where international artists come out to perform"
How she managed to get to South Africa?
"Audius, management teamed up with some guys in the states "Anashe" and they had a couple of producers who they knew this side of South Africa in Joburg and we just linked up with them in Jozi and that's where I met Priddy ugly, citizen, that crew basically."
Watch the full interview below: